About the author Patrick Richardson
Patrick Richardson was born in Sussex and raised in Edinburgh, where he went to university. He lived in Amsterdam for eleven years before he returned to Scotland. He has been travelling for fifty years to the world's most inaccessible places, and writing travel articles for the past twenty. He has written for the Guardian, The Herald, the Sunday Herald, The Independent, The Scotsman, The Telegraph, The Sunday Telegraph and The Sunday Times. He has appeared on BBC Radio 2 and BBC Radio 4, and has twice been invited to the Edinburgh International Book Festival (in 2009 and 2014). He has also read at many other festivals and events, including those held at the Royal Scottish Academy, the Royal Scottish Geographical Society and the National Library of Scotland. He has, in addition, had several exhibitions of his travel photography. He lives in Edinburgh with his partner, and continues to travel to remote parts of the world, exploring threatened cultures.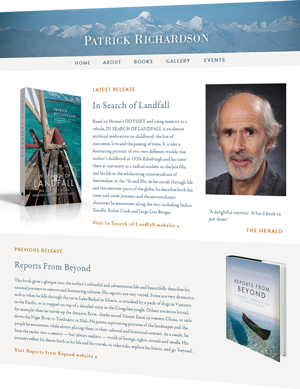 For more information about author Patrick Richardson visit his personal website at: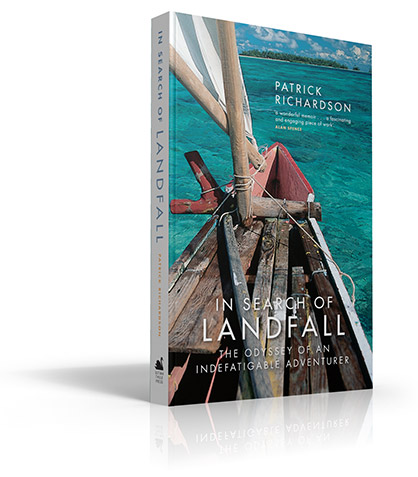 LATEST RELEASE
In Search of Landfall
Based on Homer's ODYSSEY and using memoir as a vehicle, IN SEARCH OF LANDFALL is an almost mythical meditation on childhood, the loss of innocence, love and the passing of time. It is also a fascinating portrait of two very different worlds; the author's childhood in 1950's Edinburgh and his time there at university as a radical student in the late 60's, and his life in the exhilarating counterculture of Amsterdam in the 70's and 80's. As he travels through life and the remotest parts of the globe, he describes both his inner and outer journeys and the extraordinary characters he encounters along the way, including Indira Gandhi, Robin Cook and Jorge Luis Borges.