Colombia : The Llanos Oriental and Bogotá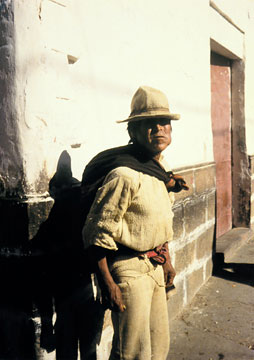 Campesino (peasant farmer) chewing coca leaves,
the northern Andes
Although long before I arrived from Ecuador I knew of Colombia's shocking reputation for drug-trafficking, violence and lawlessness – it's the world's biggest cocaine producer and has the continent's longest guerrilla insurgency – never in my wildest nightmares could I have dreamt what awaited me there.
Not that there hadn't been early warning signs; the German traveller next to me on the bus had told me how, on an overnight coach to Bogotá, he'd awakened to find his trouser leg slit open and his money belt removed. When I arrived in Pasto it was dark, and dingy streets outside the bus station were lined by hustlers with narrow trousers, rakish moustaches and greasy hair. I had to find a hotel, so, pursued by furtive eyes and brazen offers of'Cocaína, marijuana?' I set off into the murky night and found a seedy backstreet hostelaje, where I pushed through crowds of pimps and women in minuscule mini-skirts to a stubbly man slouched against a coffee machine.
'Wan focky focky?' he offered wearily. Many cheap Colombian hotels can be rented by the hour or the night, depending on use.
'Just a room,' I replied, before climbing stairs after him to a shabby top-floor room smelling of sweat and cheap hair oil. Through cardboard partition walls came the sound of men moaning in ecstasy.
The next morning I set off on the Popayán express up the Pan-American Highway, a route notorious for armed gangs masquerading as police or military, which hold up buses at fake checkpoints.
Christopher Isherwood, in The Condor and the Cows, described terrain round La Unión,
perched on its sheer-sided ridge, as resembling 'violently crumpled bed-clothes, with the
road scribbled wildly across tremendous valleys, while tilled fields on opposite mountainfaces
look nearly vertical'. Still, nerves jangling, I couldn't really concentrate on the scenery.
After 320 kilometres and a long, grinding descent, I was elated to arrive seven hours later
in Popayán, the country's most appealing colonial city. . .