Open Map
Hammocks on a beach, Rarotonga, the Cook IslandsThe Cook Islands
Rarotonga
Avarua in Rarotonga, the 'capital' of the Cook Islands, was my sort of place. Located on the palm-fringed coast at the foot of tropical green mountains, it was a sleepy South Seas village with wooden trading stores and decaying colonial buildings. Only bikes and the occasional car pottered along the sea front between the parliament (which was housed in a ramshackle bungalow), the harbour and the Seven Coconut Trees roundabout. It was also full of characters.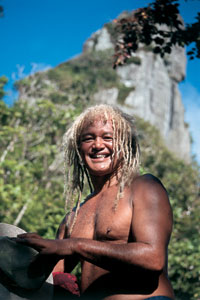 Pa in front of the 410-metre-high Needle
pinnacle, Rarotonga.There was Don Silk, a craggy, white-bearded Aussie who, along with other ex-pats, propped up the bar every evening at Trader Jack's, a converted, corrugated-iron barn on stilts over the ocean, where I went to watch magnificent sunsets on the terrace. He had fled 1950s New Zealand as he found it too claustrophobic, and spent his life on freighters in the Pacific, before 'stopping off' in Avarua, where he'd married a New Zealand Maori and founded his own shipping company.
The first of his three ships had foundered outside the harbour, but he'd prospered and in due course also became harbour master. He'd retired to write his fascinating autobiography, copies of which hung on the tobacco-stained walls, along with photographs of schooners wrecked on local reefs.
'But just because I've been here forty years doesn't mean I've settled down,' he grinned mischievously, downing his umpteenth beer. 'There's life in the old sea dog yet!'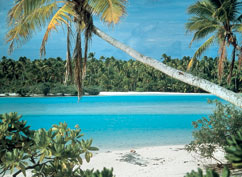 Lagoon in Aitutaki, the Cook IslandsThere was also the half-Maori 'Tupui' Henry, who owned 'Maria's', an empty, pink-and-blue, two-storey chalet for rent three kilometres along the coast. Seduced by surf thundering onto the beach below the veranda, I stayed there for a week. A lean septuagenarian with a pinched face and a vest emblazoned with the words 'Veteran Runners', Tupui was the son of Albert Henry, the first prime minister, who had gained the islands' independence from Britain between 1967 and 1978, and whose lifesize bronze bust, wearing a pair of spectacles and draped with floral garlands, adorned the cemetery of Avarua's white coral church. . .