Hot springs, the Blue Lagoon, southern IcelandIceland
Far from Iceland's world-renowned attractions to the south, such as the tourist-thronged waters of the geothermically heated, open-air Blue Lagoon, lies the West Fjords, one of the most unspoilt areas left in Europe. An area of 8,600 square kilometres situated on the remote north-west tip of the island, it has only one town, Ísafjördur, which, with a population of only 2,900, is little more than an overgrown village.
Surrounded on three sides by flat-topped mountains soaring over Skutulsfjördur fjord, Ísafjördur is a peaceful place, with blue, red or yellow timber houses and a harbour full of fishing and whaling boats.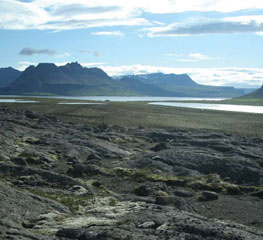 Landscape near Nordurfjördur, north-west IcelandNearby, in four of Iceland's oldest, eighteenth-century timber buildings, is the fascinating Maritime Museum, whose highlight is a touching, hour-long video showing the traditional life of Icelandic fishermen and their spiritual relationship with the sea before industrial fishing methods destroyed the link forever.
But Ísafjördur's main attraction is its proximity to the bleak, uninhabited Hornstrandir Peninsula. This area offers exhilarating hiking, provided the visitor is fully equipped to deal with Iceland's notoriously fickle weather and can read a compass. I was in Ísafjördur during the summer, so one afternoon I took the daily launch that makes the short journey across the bay to the ruined settlement of Hesteyri. Founded in 1894, eighty people once lived here, dependant on a Norwegian whaling station until it closed in 1940. Shortly afterwards, Hesteyri was abandoned, as was the entire peninsula, although several cottages have been renovated as summer homes and the house of the doctor, which is unchanged from when he left in 1952, is a hostel.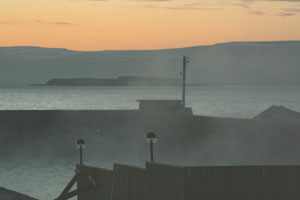 Open-air thermal baths on Ísafjördur fjord at sunsetUnbelievably, for Iceland, the weather was almost Mediterranean, and it was hot enough to sunbathe by the heartrending little graveyard overlooking the imposing Drangajökull glacier opposite. Then I adjourned to the hostel for coffee and cakes before the launch returned at 5 p.m.
South of Ísafjördur, the road headed south around six deeply indented, deserted fjords where more tabletop mountains plunged dramatically into the sea. It was a time-consuming journey, as, like driving around the fingers of a hand, in my hired car I had to travel over a hundred kilometres in order to advance by twenty. Afterwards the road crossed a high plateau to the sleepy fishing village of Hólmavík (population 450)…