Japan : Nagano-ken

Temple in Takayama, Nagano-Ken, central JapanAs soon as I arrived in the city centre, I knew I was going to hate Tokyo. I had been curious to see Japan's dynamic capital, where I planned to stay for a few days. After that, even though it was January, I intended to travel round the main island of Honshu on my threeweek Japanese Railways pass. But already, on the train coming in from the airport, I'd almost had enough of the concrete wasteland sliding by outside the window. Now it was rush hour, and as I pushed my way through the vast crowds swirling round the underground station to the street above I tried hard to suppress a rising sense of claustrophobia.
For a while I just stood there, not knowing what to do and where to go, and gazing at the faceless, towering canyons, the traffic jams and the interminable, ant-like crowds. Suddenly I couldn't stand it any longer, so I ran back down to the ticket office and bought a seat for the first available shinkansen (bullet train) for the mountains of Nagano-Ken.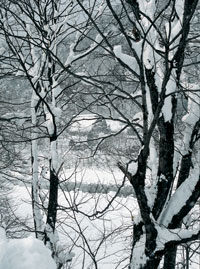 The minshuku (guesthouse)
in Shirakawa, Nagano-KenSoon, as we raced north, I was gazing aghast at the monstrous conurbation of factories, power stations and tower blocks that stretched for almost an hour, even though we were travelling at 140 kph, before it began to thin out.
At midday, halfway up Honshu, I changed from the sleek, shark-like shinkansen to a local train and then another, and yet another. Each time, they became smaller and smaller until finally they were just small, three-carriage diesels. As I stood on the usually deserted platforms waiting for one of them to arrive, I would look up and there it would be; the Japanese Railways book of timetables is as thick as two telephone directories put together, and each of the trains listed is punctual almost to the second.
That afternoon, as we headed into the fading light and the snowy mountains, the little trains would fill up with children returning from school. They were dressed in neat, darkblue uniforms, which looked like those worn by nineteenth-century Imperial Japanese Navy sailors. They were all extraordinarily well-behaved and polite – like most Japanese – and they gazed at me with a mixture of shyness and curiosity.

The Todai-ji Temple in Nara, Honshu, central JapanAt last, as night was falling, I arrived at the cosy train station of the small town of Takayama. Set deep in the Hida Mountains of Nagano-Ken in northern Honshu, it had a neat, compact main square. Snow was gently falling, and lanterns hung in streets lined with wooden houses.
Shortly, I arrived at the youth hostel, a black-and-white Buddhist Tenshoji Temple, tucked away in pine forests at the foot of Higashiyama (East Mountain). A friendly woman led me through a maze of panelled corridors to a simple room that looked out onto a cast-iron bell suspended from the beams of a pagoda. . .