Open Map
After the market in Djenné, MaliMali
The Dogon Country
Celebrating my birthday in Timbuktu seemed a good idea at the time…
I'd fly to Mali, travel 600 kilometres east by road to medieval Djenné, with its unique World Heritage mosque, and by foot explore nearby Dogon cliff-villages, the most famous in Africa, before catching a passenger boat from Mopti down the Niger River, water level permitting, for the two-day journey north-east to Timbuktu.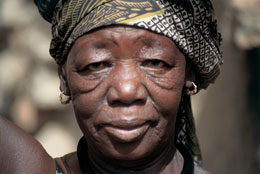 Woman at the market in Djenné, MaliThe Foreign Office wasn't encouraging.
'Travelling in Mali is risky,' it had cautioned, 'owing to armed Tuareg nomads fighting the military government for an independent homeland, as well as bandits attacking road and river traffic, and muggings in Bamako.' At least they'd heard of Mali's capital, unlike the staff at airport check-in.
'Where?' they'd asked incredulously.
Now, sweating profusely – at 11 p.m. it was still an unbelievable 34°C – after stepping off the plane into the suffocating blackness enveloping a tiny, ramshackle terminal, I felt intense foreboding.My antiquated taxi trundled along a potholed highway towards Bamako's distant glow until it jolted interminably through shadowy, earthen alleys in a fruitless search for lodgings.

Tellem rock fortresses in the Dogon Country, MaliFinally I couldn't stand it any longer. 'Can't you find the centre?' I asked irritably in French.
'This is the centre,' came the reply.
After I hammered on a Catholic mission's gates, I trailed after sisters to a dormitory, where I lay gasping in a mosquito net under a creaking fan. There I tried to ignore the Dutch women explaining to an exhausted Spanish traveller – who, although from Elche (Europe's hottest city), was unable to stand Mali's heat after only three days – how they'd just been mugged. I didn't care; I was grateful for a bed.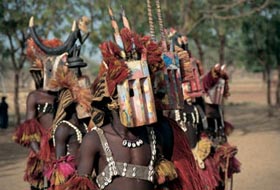 Dancers wearing masks in the Dogon Country, Mali
At first glance, Bamako had metamorphosed next day into a sprawling village, with backstreets full of playing children and tall, slender women carrying pots on top of colourful headscarves. The bustling centre, which was dominated by decaying colonial buildings, was a spreading, open-air market squeezed into a maze of narrow lanes. . .