Open MapMongolia
The Eagle-hunters of Bayan-Ölgii
In the far west of Mongolia, on a hillside above a blue alpine lake reflecting soaring, permanently snowcapped peaks, were two white, round nomad tents, or gers.


Madef's daughter outside the family ger, Bayan-Ölgii Province
Tucked away in a cluster of pine trees, they belonged to Taikoni, one of this almost-deserted region's Kazakh eagle-hunters, who I was hoping to meet. It was June, during the brief summer, and shaggy black yaks and horses with long, unkempt manes grazed nearby, tails swishing. Separated from Russia and China (whose borders are only three and thirty kilometres away respectively) by the mighty Altai Mountains, this is one of the world's most remote places. The province of Bayan-Ölgii, which is ninety per cent Kazakh, has no paved roads, and the only way to get here is take the four-hour, 1,645 kilometre flight from Ulaan Baatar to Khovd, the desolate main – and practically only – town; thereafter, as there were also no buses or cars, you have to hire a four-wheel drive.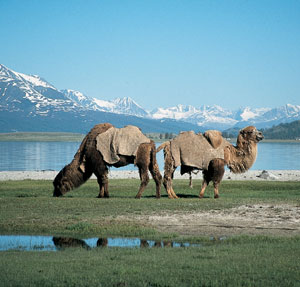 Altai Mountains and Bactrian camels at Lake Khoton Nuur
So Nomads, a surprisingly well-organized travel agency in Ulaan Baatar, had arranged for me to fly from the capital accompanied by one of their young Mongolian interpreters and our camping equipment for a month-long expedition, and to be met at Khovd's tiny airport by a non-English speaking Mongolian driver and his jeep. We had collected the necessary permits from the police station, and loaded up with provisions and spares from the dusty market before setting out.
It had been a magical, four-day journey. Following the River Khovd through seemingly countless precipitous gorges, every evening we had camped by streams next to gers containing nomadic relatives of Tseveenjav, the wonderfully warm and chatty 67-year-old driver, who had long been settled in Khovd. After receiving an ecstatic welcome, the three of us had cooked the evening meal and he had lovingly polished his antiquated, ex-Russian army jeep before we spent hours laughing and joking with his aunties, uncles, nephews and nieces
– who he hadn't seen since winter – in their gers. Finally, as we travelled ever westwards, and the handful of gers we encountered gradually became Kazakh instead of Mongolian, we had followed meandering grass tracks across high, empty plateaux until we arrived at
Khoton Nuur, the last of three stunning, adjacent lakes. . .

My jeep waiting for me on the road to Mt Tavanbodg (4,373 m.)
Nomad husband and wife, outside their ger, western Monglia