Pakistan : The Karakoram Highway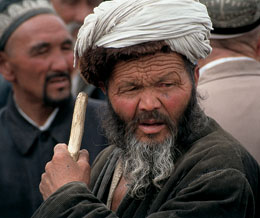 Uyghur man in Kashgar, western Xinjiang, ChinaTo my dismay, there were long lines of people in Kashgar in western Xinjiang, China, for the bus to Pakistan via the Karakoram Highway (KKH) and the Khunjerab Pass, which, at over 4,500 metres, is one of the highest in the world. A friendly Italian hippy let me jump the queue for the rugged two-day journey; when the road reopens after winter and there's only one bus a week, moral scruples don't matter. Soon we were weaving through jangling horse carts, mud houses, irrigation canals and poplars stretching in green fingers across barren stony plateaux towards the seemingly impenetrable Pamir Mountains. For a while we ran parallel to the Ghez River into ever-narrowing canyons, although once, through gaps, I glimpsed gigantic glaciers and Mount Kongor's white peak floating in the blue sky.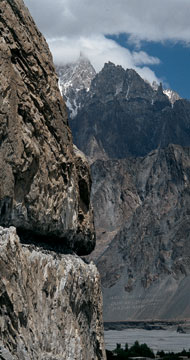 Old Silk Road hewn into the mountain,
Hunza, northern PakistanThe KKH was begun in 1970, when China and Pakistan started cutting a road following the old Silk Route across the knot of four great mountain ranges: the Himalayas, the Hindu Kush, the Karakoram and the Pamir. The result of a monumental collision 55 million years ago between the Indian and Asian continents, here is arguably the world's highest concentration of glaciers and peaks, including K2, the second-highest point in the world. The Karakoram Mountains are grouped in clusters called muztagh (Uyghur for ice mountain), and are characterized by closely packed serrated summits, bottomless gorges and immense glaciers. Not surprisingly, the road, which was built by 15,000 Pakistani labourers (400 of whom were killed) and 20,000 Chinese (figures unpublished), is exceedingly dangerous, as blasting so destabilized the mountains that landslides, rock falls and mudslides still regularly bury it since the road was opened in 1986.
But there wasn't much time to brood: when I wasn't hanging out windows staring awestruck at giant boulders strewn, as if by the Cyclops, next to the road, I was observing the other passengers. They were an interesting group. Most were Pakistani traders returning with cheap Chinese goods. Babbling and joking through a fug of marijuana, they played incessantly with plastic jets they had hung from the roof. Few spoke English, although a distinguished-looking older man with wavy grey hair and an elegant white moustache reminisced wistfully to me about discipline during the British Empire.
Then there were the Westerners: the Italian, all in black, with leather bag, belt and silver rings, who was returning to India; Fritz, a shrivelled German in his forties with manic eyes, a disintegrating sheepskin jacket and a dirty knotted handkerchief to protect his balding head; two tough Geordies with mountainous rucksacks, tattooed red skin, running shorts and bulging muscles, who were on leave from the British Army to climb the Pamir; a striking Danish woman – the only female on the bus – with blue eyes, silky brown hair and a long flowery skirt; and her boyfriend, a skinny intellectual Berlin student, reminiscent of a Weimar cabaret compère, with foppish hair, horn-rimmed glasses and a missing front tooth. . .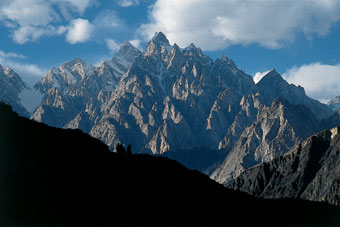 Karakoram Mountains, Hunza, northern Pakistan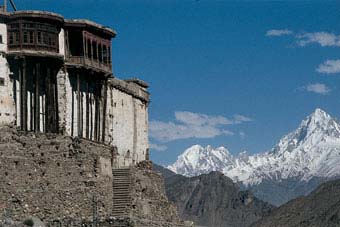 Baltit Fort, Karimabad, northern Pakistan